Tangatamanu

Created in 1993 by Alberto Morelli and Stefano Scarani. During this years of activity many people has walked near or though Tangatamanu.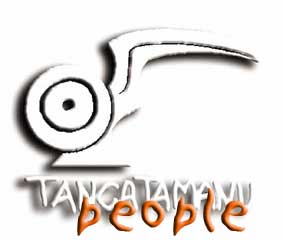 Lots of collaborators, friends, victims of a native passion for our projects, spend their energies in Tangatamanu. Some of this have a continuos collaboration with Tangatamanu, other crossed Tangatamanu as a meteor.

It is impossible to remember all the name here, but we try to fill an incomplete agreements list, in an accurate non-alphabetical order.
BACK
Franco Parravicini
Julia Chiner Santapau
Danio Catanuto
Cristina Morelli

Moni Ovadia
Roberto Andò
Laura Catrani
Tatiana Patella
Emilio Vapi
Rocco Carbonara
Gabriele Pinamonti
Eliana Gintoli
Katiuscia Perone
Carolina Baggi
Steve James
Ettore Castagna
Peter Cerone
Antonella Simoni
Micaela Brignone
Jorgelina Depetris
Patricia Jethzabel Calvo
Domenico Memmo Morelli
Anna Battistioli
Elena Bertolami
Olivia Angelini
Susana Zorrilla
Chiara Toloni
Caterina Formenti
Laura Scarani
Victor Rasgado
Cristina Bartolomé Martinez
Giancarmine Arena
Giada Palloni
Kumi Uchimoto
Dalila Sena
Jacopo Rovida
Peter Bottazzi
Lorenzo Sartori
Siro Scarani
Rita Curti
Marco Teatro

Gianni Carluccio
Gabriele Coltri
Tiziano Menduto
Xabier Iriondo
John Foot
Alejandro Escuer
Mirko Spino
Rodrigo Sigal
Andrea Taglia
A.J. Weissbard
Ivana Angelini
Bernadette Felber
Corrado Fantoni
Tanja Solci
Francesca Amat
Tommaso Orlandi
Pietro Pirelli
Francesca Pecoraro
Giorgio Colombo Taccani
Roberto Mazza
Kyoko Sengoku
Riccardo Sinigaglia
Vadim Fishkin
Giovanni Grosskopf
Massimiliano Viel
Giorgio Fiori
Mara Colombo
Elisa Giardina Papa
Xelo Giner
Studio Azzurro
AGON
Change Performing Arts
Wallace Records
Here and Now
Dissoi Logoi
Trio Coltri Menduto Morelli
A Short Apnea
Mexico City Wind Quintet
Icarus Ensemble
Teatro della Contraddizione
Tunnel Studios
N03!
Altrisuoni
Teatri in scala
UFO Studio

Institutions / organizations
CEMAT
AMEE
CMMAS
Musikene
IRMus
MEVIC
Politecnico di Milano
Folkest
Amirani Records
Recomanded Records - Megacorps
and more...